Making Travel Accessible: The Portable CST Chair
|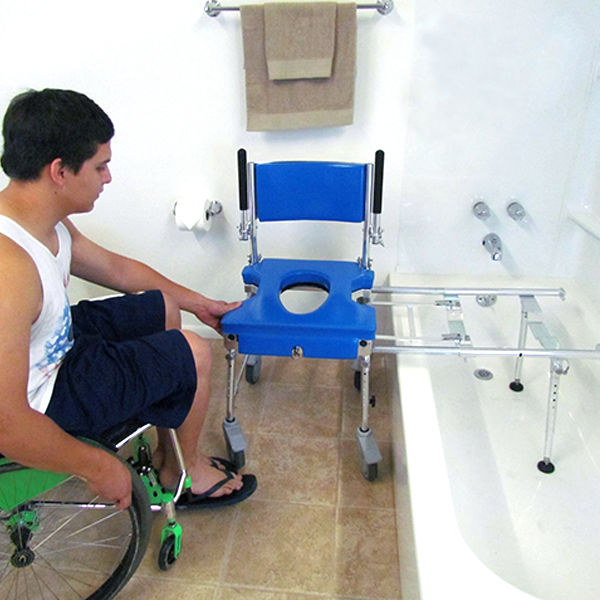 The "Go-Anywhere portable Commode, Shower 'n Tub (CST) Chair" by Go! Mobility Solutions promises to make traveling easier, more user-friendly, and more accessible for wheelchair users. If you've ever felt limited in your ability to get out and see the world, this portable chair assures a newfound freedom in that regard and confidence and security in your ability to meet the bathing and toileting challenges that traveling can pose.
The company founder and chair inventor Rick Goldstein can attest to it.
Constructed of anodized aircraft-grade aluminum, the frame boasts lightness, stability, strength, and durability. The CST chair is equipped with four fully-lockable caster wheels to get you around and over a toilet or into a roll-in shower.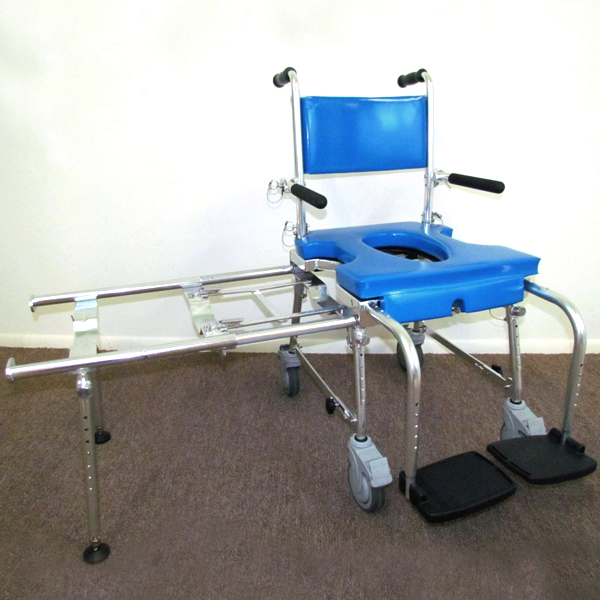 No roll-in shower? No problem. The chair is modular: situate the chair next to the bathtub; attach the fixed section to either side of the chair depending on the tub setup; extend the telescoping legs of the fixed section to the appropriate height until the rubber feet are firmly sitting on the tub bottom; and then slide your butt right on over that tub edge. Voilà, there you are, inside the tub and safely under the shower head.
Just as the chair is modular, it is also highly adjustable. From the seat height to the swing-away footrests, the CST chair has you covered. Wanna find your gangsta-lean? Shorten the rear telescoping legs and lengthen the front ones until you've tilted back the seat. The chair can take it and in this way provide you with added stability and comfort where balance and upper-body control might be things you need to address.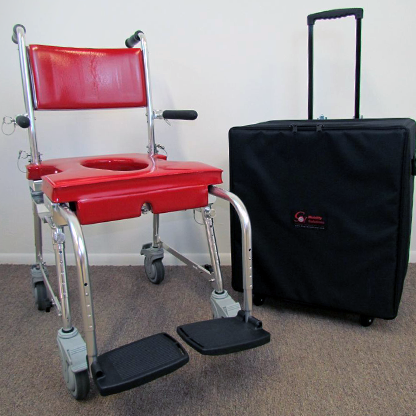 What's more, this puppy fits inside a suitcase or in an optional custom travel roller bag sold by Go! Mobility Solutions that, according to the company, passes for carry-on luggage on most airlines. Top it all off with waterproof foam seat padding and cushions and you've got one hell of a travel companion.
Word. Book it, you hot-roddin' SOB, you're taking that trip you've been thinking about for some time…